OpenArena is a community site that anyone can contribute to. Discover, share and add your knowledge!
Trending articles
Popular categories
View full main page
Please use the forum for reporting bugs in the game.
Do NOT use the "Report a problem" area for this!
NEWS: OpenArena Community Mappack Volume 1 has been released (20 January 2014). And we are preparing a fix for it: please come back after 31 August 2014 to grab the updated version!
Welcome to OpenArena
OpenArena (short form: OA) is a free (as in freedom) network enabled multiplayer first person shooter based on the ioquake3 fork of the id tech 3 engine. It aims to be a free software clone of Quake III Arena, retaining its gameplay while replacing the proprietary content with brand new free (as in freedom, again) content. OpenArena is released under GNU General Public License v2.0 (GPLv2). It is developed by the OpenArena Team.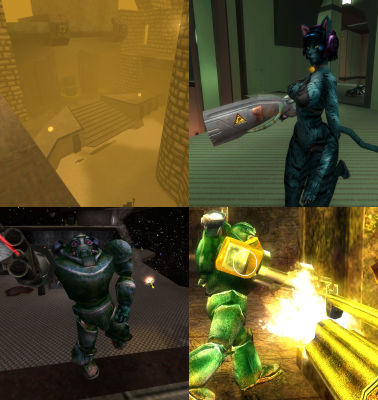 It features many gametypes, including the traditional deathmatch, and sports a varied cast of characters. Due to violent and occasional racy content, it's unsuitable for children under the age of 17.
OpenArena allows you to play freely, offline or online, and users are also able to run their own LAN or internet server.[1] The game is also compatible with a large base of third-party stuff designed for Q3A such as models, maps and mods.
It is cross-platform: official OpenArena releases include Windows, Linux and Mac binaries.[2] You can also get the sources, adapt and recompile them to have the game run on your favorite Operating System. Some third party developers even released "ports" for some popular "mobile" OSs, such as Android (see Ports and markets page).[3]
Current version: OpenArena 0.8.8
Key features
OpenArena 0.8.8 key features
Completely Free and OpenSource fast-paced, arcade-like, First Person Shooter game.
It's cross-platform, being available for Windows, Linux, Macintosh systems, and tons of other platforms. It also does not require high-end hardware.
Includes 13 different weapons, 51 stock arenas, 18 player characters with their respective teamskins and additional skins, and 12 Gametypes, including both team-free and team-based modes (Free For All, Last Man Standing, Capture the Flag, Domination, etc.), plus a Single Player Deathmatch "unlock tiers" mode.
Can be played offline and online. No registration required.
It can be greatly expanded thanks to support for third party maps, mods and bots, including third party stuff designed for the popular Quake III Arena game.
Additional options for botplay/online play include features such as Instantgib, All rockets and Vampire mode.
Anyone can setup and run his own LAN or Internet game server freely, with support for admin-defined map rotation scripts or auto change map feature, and

voting

. Servers can be password-protected and can be remotely controlled.
Fast automatic download feature for getting extra stuff required to play on specific servers (automatic download option is disabled by default, considering that such extra stuff may not comply with GPLv2).
Links
Information for Players
Community
IRC
There is no "official" OA IRC channel, however here's a list of some unofficial IRC channels:
Development
Read this first
Direction of OA
Asset-wise
Coding-wise & other stuff
Other Stuff
WikiWorks - Also this Wiki site needs work! Here you can request a missing page or can see how you can help expanding the site, creating or fixing a page needed by someone else! It contains some tips about how to work in this wiki, too.
DISCLAIMER: some infos in the wiki may be incomplete, outdated or wrong.
Notes
↑ You can find many public internet servers. Game servers are managed by third party (anyone can run his own server) and usually have no relation with OpenArena developers. See Servers for more infos.
↑ Those you can find, for free, in official OpenArena web site: http://www.openarena.ws
↑ Even if these third party people may visit the official OA forums by now and then, we have no direct control over their works, that may be considered "forks" of the original project. We are not responsible if a few of them ask for payment: GPL license allows commercial use.