Mod name: AfterShock
Also known as: oaUnofficial, Aftershock, AS
Instructions to make it work: There are two options to make it work: Download all appropriate files from Aftershock Downloads page or connect to Aftershock server and OpenArena will do download for you. See Installation section
| Works | Mod Version | OA Version | Notes | Operating System |
| --- | --- | --- | --- | --- |
| Yes | rev 155 | 0.8.5 | Mod works without problems. | All |
| Probably | rev 155 | 0.8.1 | Mod works without problems. | All |
Description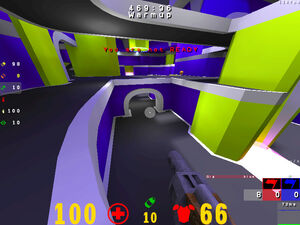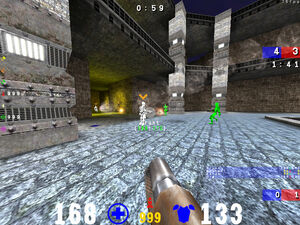 AfterShock, in the past known as oaUnofficial, is GPLv2 open-source mod for OpenArena, that focuses on competitive gaming. It includes a lot of features, like detailed scoreboards, new weapon effects and some extra variables, like the ability to select a specific player model to be applied to the enemy team only, and to change its colors ("brightskins" to make seeing enemies easier). It has got a modified and customizable HUD, a "ready/notready" system during warmup (match begins only when enough players are "ready") and the clan arena gametype is more improved than the original. It features reduced-damage railgun and lightningun (enabled or disabled via cvars).

AfterShock aims to become a standalone game sometimes in future.

A fork of the mod is AfterShock XE.
Installation
Manual download
Download Aftershock revision 155 and texture pack v1.00 and 1.02 and put them in your OpenArena folder.
Servers
You can connect to a server and automaticaly (cl_allowdownload 1) download Aftershock. Here are few working Aftershock servers:
212.83.42.232:27961
188.40.94.69:27969
94.141.20.92:27961
Others are listed at Aftershock servers page
Misc Troubleshooting
Some user mentioned that in case you encounter a problem of the game closing when you try to play Aftershock, you may try to fix it by starting the game with +set com_zoneMegs 48 parameter from OS command line.
External links