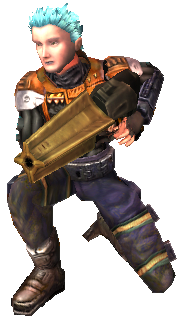 Sergei is a cool looking guy with cool hair, cool armor, and a cool name. Who get his name from serge as leader of the russian army. He fears not, but seek to enter the arena to get his revenge by killing Assassin. Assassin the immortal which take the soul of the living make his way to the arena to settle the score with his former enemy Sergei. Preparing for the day the arena starts revolving around him to seek revenge of his family, Sergei hed to the mountains to unpack a secret pistol, which his father give to him at the age of 14. Never miss his aim but expect his opponents challenging.
Modeled, animated and skinned by enki. Voiced by Rottking.
Community content is available under
CC-BY-SA
unless otherwise noted.